I'm linking up for the Product Swap hosted by Jessica from
Mrs. Standford's Class
!
When I received the info about my Product Swap partner I was so pleased! I've followed Lidia's blog,
Kinder Alphabet,
for a while now and always thought she had great ideas!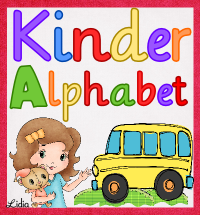 I browsed through her
TPT store
and found tons of interesting things, but decided on her
Short Vowel: Center Activites
packet! She was so sweet and gracious when I contacted her by email, and I discovered she has a son the same age as my youngest! It will be so fun to see what he thought of my games!
First, let me tell you, this packet is
huge
! Word of advice - make sure you have plenty of shows dvr'd because you'll be cutting and laminating for a while! This is not one of those units that you purchase and then think "Hmm it's nice, but I wish it were longer." It is 78 pages long! This unit has it all! There are 6 different games/activities included. 5 of the games include cards for all the short vowel sounds while another activity features the short a sound only. In addition, there are 40 "word bank" cards that have the picture and short vowel word. You could use these on a word wall or use them whenever you introduce a new short vowel sound!
As I started to cut and laminate, the first thing I noticed was that the images on the cards were very clear and easy to identify. I love that she repeated the images for the different games. This means I can introduce one game, teach the children the pictures and then they already know them for the next set of games! Each game (except for the short a tree) has 40 cards, so you can easily just use 20 at a time and rotate them to keep the activities fresh.
I decided to do my cutting and laminating in my bedroom where I was less apt to get interrupted by kids, cats or dogs lol! Here's what it looked like during my marathon cutting session (I opted to do it all at once rather than a little each night as a sane person would):
Once I had it all cut out, I then laminated it. I'll spare you those pictures. Just know that my laminator and I are not friends. At. All.
Once I had it all cut and laminated, I realized that I wasn't in my classroom! How am I supposed to do pocket chart activities without a pocket chart? Luckily I remembered that I had scored some at Target's Dollar Spot and even though they're small, they did all right in a pinch! I felt quite like McGuyver as I tied them to the back of my kitchen chairs lol!
Alright, onto the pictures of my sons playing the games.I roped my two youngest in for this. Tommy is 8 and Joshua is almost 6. They're a bit older than the target audience, but it was still great review, especially for Joshua!
Here they are with the title page - Tommy was thrilled to learn he would be "on the computer" lol.
Both of my boys enjoyed the puzzle cards. Since Tommy is more advanced he was able to do multiple cards at one time. Joshua stuck with two at a time. What I liked was that you could use the word bank cards as a template so that the kiddos know which word they are trying to build.
When we had finished all of the games we spread the cards out on the table - I kid you not, I still had a huge stack in my hands even after filling the table and the two pocket charts!
I would definitely recommend this packet to anyone looking for short vowel work station activities. These can be done whole, group, small group or independently. I think, just based on the smiles my boys had, that you can tell that these are engaging activities!
Now head over to
Lidia's blog
to see which of my products she reviewed!