First, a quick share from my Make & Take class that I forgot to include in yesterday's post:
This is a visual that I use to teach about the difference between tattling and telling. Usually what I ask my kids is "Are you telling me to get someone in trouble or because someone needs my help?" The gloves gives them a visual aid to refer to when deciding whether someone needs my help. I call it "My 5" and when a child comes up to
tattle
tell me something, I can hold out 5 fingers and say "Is it one of my 5?" and chances are the child will go right back to their seat as they realize that no, it's not really something they need to tell me about.
I learned about this glove from my mentor teacher during student teaching, and in the past I've drawn a picture to help my kiddos remember as I teach our procedures at the beginning of the year, but I always meant to make a glove of my own to hang up as a continual reminder. I'm so glad this was one of the things we were able to work on yesterday! Check another thing off my perpetual to-do list :) Just in case you can't read it, the things that they most definitely
should
tell me about right away are: someone bleeding, something on fire, someone doing something dangerous, someone throwing up or a stranger around.
By the way, does your school have lock down drills? We have to practice what we'd do if there was someone with a weapon in the building or area etc. We have a special code word that gets announced, then we close the doors (our classroom doors don't have locks though), turn off the lights and get everyone down on the ground away from windows or doors and be completely silent. There have been a couple of times when the police were chasing/looking for someone dangerous in the neighborhood and the school was put on lock down to avoid any situations.
Once my neighbor used the drill to keep her kinders away from the windows and unaware of a drunken, naked brawl between parents in the parking lot right outside her door. Apparently a mama was very drunk and upset with her ex and his new girlfriend and decided to strip down to show him
"what he was missing"
and then proceeded to get into a knock down drag out fight with the new girlfriend in the parking lot!
Hmm that was a squirrel, wasn't it? It's hard to focus again tonight - so much stuff still going through my mind from today, plus still not used to getting up early lol!
Speaking of, today I began my Positive Discipline class and I love it! A lot of it is stuff I already know/do but it's always nice to have that reminder and to refocus on what you know is right. One of the things I really like is that it focuses on prevention and being proactive rather than reactive. We talked a lot about building the classroom community and developing a relationship with each kiddo individually . We've also taken a ton of brain breaks -she has so many fun activities to get you up and recharged. I've been able to add several ideas to my virtual tool box. The instructor has shared a lot of resources with us as well, but of course I left everything in the classroom at the end of the day, so I'll have to share it another time!
In the meantime, how about a linky?!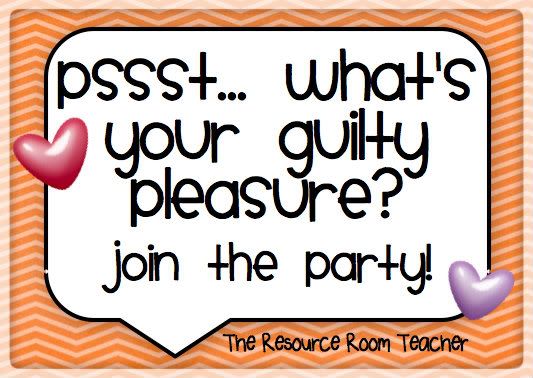 Ashley over at The Resource Room Teacher is hosting this party. I think blogging is my main guilty pleasure, but there are a few more:
1. Glee and all things derived from it! I love the original show, love The Glee Project spin off (I'm going to go watch the latest episode in a bit, I taped it the other night but haven't sat down to watch it yet, hopefully none of my faves got voted off!) and love the music! In fact, the graduation album is in my car's cd player now and I've been playing track 3 over and over again. And, just in case you're wondering what track three is, here's a video of it :)
2. Russel Stover's Sugar-Free Strawberry Creams. I'm on a low carb "eating plan' so I have switched to sugar-free goodies. Whenever I go to Walmart (don't judge, the nearest Target an hour away!) I pick up two packs of Strawberry Creams:
These are so creamy and satisfying! I just sit back and savor one and feel like I really ate a treat!I would eat these even if I wasn't on a diet eating plan!
3. Alton Brown - anyone else watching The Next Food Network Star? I got all teary eyed watching Alton get all choked up between Martie and Justin! Alton has long been a fave of mine. I now bake my bacon in the oven rather than fry it, I learned how to make fabulous omelets from him, and I will watch any show he's on! My kids call him my "boyfriend" because they know I like him so much! I currently do not own a spatula because I can't find one like the one he recommended lol!
Alright, that's enough of a peek into my wacky life. Go head over to the party and link up your guilty pleasures! I'm off to watch my dvr'd episode of The Glee Project and then hopefully going to bed - I'm finding it very hard to get back on a normal schedule!