Ahhh! My Fall Break is slipping away! I've had a lovely time, actually got to take a nap yesterday and read a book, made Shepherd's Pie for dinner which I don't usually do unless I have lots of time (never have
any
of that on a school day!), and now today I'm lounging in my pajamas, catching up on all my favorite blogs!
First up, I have a quick shout out for a giveaway:
Rebecca at
Teaching First
is giving away a $15 Walmart gift card! Who couldn't use that with holidays lurking right around the corner! She is also having a 15% off sale at her TPT store, so that's double the reason to head over to her blog! Giveaway ends on Monday!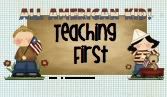 Next up, someone needs to invent lamination that doesn't require me to cut out all of my pieces first, then laminate and then cut again! There has to be a better way...or at least a way that is not so time consuming! I have not watched tv all week - anticipating that I would need a loooong play list on my dvr to get me through the upcoming hours of cutting, laminating and cutting again! So, as soon as I am done this post, I have to get to work on cutting out everything I will need for this week, hopefully there weren't too many reruns this week so I have some new shows to keep me entertained.
I have also been giving a lot of thought to Thanksgiving and Christmas lesson plans. If you have any ideas for skills you'd like to see activities or games for, please leave me a comment! Since I'm new to 1st grade I always seem to be playing catch up and I'd like to be able to plan out the next 2 months so I can get started on creating!
I did make this quick game - I think my firsties will enjoy it as a math center. The basic premise is that they take a cottage card (Sums of 12,11,10,9,8,and 7) and then find the cats with the correct addition sentences. I plan to play this almost like Memory - all of the cat cards will be in the middle of the table and students will have to pick a card and solve the problem to see if it matches their sum. If it does they get to keep the card and have another turn, if not they have to put it back and play moves to the next person. I debated about putting "extra" cards in for lose a turn etc, but I thought maybe someone would like them and it may extend the game a little once my firsties get good at it! Please leave me a comment and let me know what you think if you download the game - comments seriously make my day brighter! Click the picture to download:
Finally, I would love it if you voted for my blog for this award. I was thrilled that someone nominated me! It would mean a lot to me to get this little blog recognized like this!